← Back to Artists List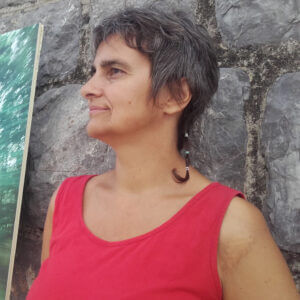 Jasna Šikanja
Zanimaju me detalji, sitnice na rubu svijeta, običan život, jednostavni procesi i svakodnevica. Bilježim dnevničke zapise iz provincije, s otoka, obale. Promatram i čudim se. Pokušavam razumjeti. Fotografiram, bilježim. Crtam bitnu supstancu nekog pojma ili toponima ili događaja. Hodam i zapisujem, pamtim, zaboravljam. 
Na Susku namjeravam izvesti performans i snimiti materijale za video rad. U moru. (Nadam se da će biti toplo u plitkoj vali ☺.) To je jedna stara ideja koju nikako da snimim, jer uvijek ima previše ljudi na obali. 
Jasna Šikanja rođena je 1964. godine u Rijeci. Diplomirala je na Pedagoškom fakultetu u Rijeci, studij Likovnog odgoja i likovne umjetnosti. Magistrirala je na Akademiji za likovno umetnost in oblikovanje u Ljubljani na magistarskom studiju grafike. Predaje na Akademiji primijenjenih umjetnosti Sveučilišta u Rijeci, na Katedri za grafiku. Izlagala na brojnim samostalnim i skupnim izložbama u zemlji i inozemstvu. 
Živi i radi u Lovranu.
Jasna Šikanja was born in 1964 in Rijeka. She studied at the Art Department of the University of Rijeka from 1983 to 1989. She undertook her postgraduate studies at the Academy of Fine Arts and Design  in Ljubljana, graduating in 2006. She works at the Academy of Applied Arts of the University of Rijeka, at the Department of Printmaking. She exhibited widely in Croatia and also participated in numerous shows abroad. She lives and works in Lovran.